Saturday December 6, 2008
Auctions, Charities, Inventory, and Christmas Shipping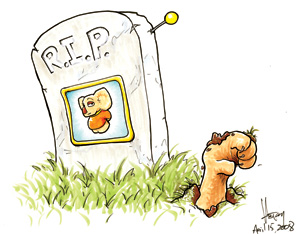 There are four marker-art pieces up for auction this week. The auctions all close on Wednesday, so if payment is prompt we can hit all of the US Christmas shipping deadlines listed below. The pieces include the "
Amorph Family
" artwork used in our
2008 Christmas Card
, and one of my favorite pieces, "
Petey Lives
." Along with the other two, "
Chimp Judge
" and "
Ghanj Rho Council
", these pieces all appeared as margin art in
Schlock Mercenary: The Teraport Wars
. Per
Sandra's blog
, every order sending
Hold On To Your Horses
to a charitable organization or children's hospital will be matched with a second book. Whether or not you take advantage of this, please consider contributing to a charity this year. We are now out of magnets. The manufacturer's turnaround time on these is usually around three weeks. We'll try to get more before Christmas, but it's unlikely. Sorry, everybody! There is a bright spot, however: while hunting for magnets (you know, just in case some had dropped back behind a box or something) Sandra discovered several scratch-and-dent copies of
The Tub of Happiness
, so those are back in stock.
Speaking of "before Christmas," if you want to shop with us and have the goods shipped to you in time for the special day, here are your imminently impending deadlines: APO addresses and Canada/Mexico -- Order by midnight, Dec 10th US Parcel Post --order by midnight Dec 15th US Priority Mail -- order by midnight Dec 18th If you're taking advantage of our "Free Shipping Anywhere on the Planet" deal, those orders go out via Priority Mail. If you live in the United States that last deadline, December 18th, is the one you're keeping your eye on. For APOs, you're good 'till December 10th. If you live overseas, however, that ship has sailed. Your deadline was early last week. We'll still ship to you, of course, but it might not arrive until the New Year. Finally, in a completely unrelated, clue-ish sort of Frumphy note: am.
blog comments powered by

Disqus