Tuesday May 25, 2010
Pre-Orders Are Open: Schlock Mercenary: Resident Mad Scientist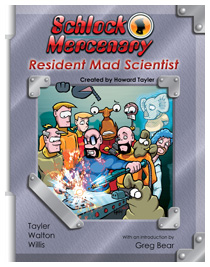 Pre-orders are open.
If you want a numbered, customer-choice sketch edition of Schlock Mercenary: Resident Mad Scientist, you need to place your order fairly quickly, as we're only doing 1,000 of these.
I enumerated the selling points of this book in a previous blog entry. Allow me to sum those points up in one sentence: if you've never bought a Schlock book before, it's because you were waiting for this one.
If you've bought Schlock books before, this is the one that will make all of your other books jealous. If you've enjoyed the bonus stories before, this is the biggest and by far the best one. And yes, if you're looking for opportunities to support me and my family in this endeavor, look no further.
This book begins with the strip for September 12th of 2004. Just ten days later, on September 22nd of that year I left my day-job at Novell with three months of savings, a big dream, a family to feed, and some terror. This book, then, is the first book I finished as a free man. Schlock fans have been supporting me, Sandra, and our kids for almost six years now. If you want to take part, buy this book.
Enough blegging. Can you tell I'm nervous? We've never put this much into a book before.
We're coming up on another important milestone. On June 12th, 2010, Schlock Mercenary will have aired every day without fail for ten full years. To celebrate, we've brought back some out-of-stock merchandise, and introduced some new stuff. So... as long as you have your wallet out:
We're introducing some high-quality vinyl stickers, suitable for placement on vehicles. How suitable? Well, Schlock is currently adorning the tinted glass of my New Beetle, and he certainly looks happy there.
This version of the sticker is the "white outline" -- solid white vinyl, designed to look best on a black surface. We've also got it available as a black outline, which (you guessed it) will look best on a light surface.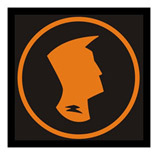 Looking to enlist in Tagon's Toughs? Say it with this logo, orangely emblazoned perfectly on a dark surface of your choice. It's also available in black, and for a bit more you can get it in a two-color version, orange and black, for application to any colored surface.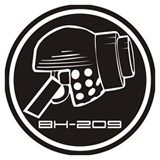 Finally, my favorite -- Strohl Munitions generously granted us permission to resell some of their marketing stickers for the BH-209 series plasgun. Strohl wants you to know that they give these away free with each plasgun purchase, but since you might have a hard time finding a Planet Mercenary outlet here in the early 21st-century, you can just buy the sticker from us.
If you're not into the whole adhesive scene, we have magnets back in stock. You remember these, I'm sure? Not into magnetism, either? What about animal magnetism? You know, the raw stuff of human attraction? You'll be irresistible in a Tagon's Toughs tee, and completely in charge in a Sergeant in Motion tee. And if you need to educate your friends, let them know that you understand Rule 1.
So... we've covered your bookshelf, we've covered your car, we've covered your refrigerator, and even your body. What's left?
Your walls. We have a wide array of prints in stock, and we're making them as affordable as possible. Many of these are colored versions of single-panel comics only available previously in XDM: X-Treme Dungeon Mastery by Tracy and Curtis Hickman. Like this one, for instance: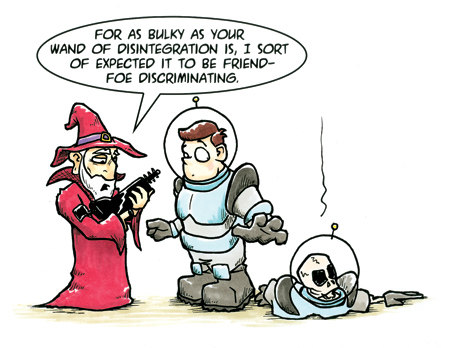 A photo-quality, 8.5" x 11" print suitable for framing will set you back a whopping $5.00, and a 5"x8" is only $2.50. Browse the "Prints" category and find more.
Dear reader, thank you for your support. We love this little business you so graciously allow us to continue in. If you'll trust us with some of your money, we promise to make you happy, and to keep the joy coming for another decade at least.
blog comments powered by

Disqus