Saturday April 18, 2015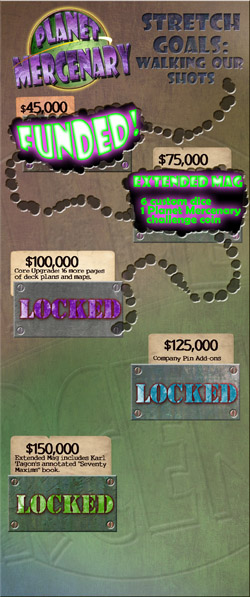 Backers of The Planet Mercenary RPG Kickstarter have pledged enough to unlock the first set of stretch goals. We will now be making a challenge coin and custom dice, and including those at the $75-and-up pledge levels. The next goal is an additional 16 pages in the core book, and that's something that will go out to everybody.
Additionally, the most recent backer-only update had links to a stack of wallpapers. As digital content goes those are just the beginning. We'll have a lot more to show off once the Kickstarter project closes and we have a budget again. The project runs through May 18th at noon, which should give most folks three paydays during which to consider parting with hard-earned money in exchange for 208 (or 224!) pages of awesome.
Until then, Alan and I have plenty of work to do, so if we go quiet for a bit it's not because we've forgotten you. Some of these pages still need more awesome in them.

UPDATE:
We crossed the 1,000 backer mark!

Alan, Sandra, and I are excited to be putting that many books in that many hands. And if trends and historical data are useful indicators, it looks like those are going to be 224-page books. Thank you!