Monday December 7, 2009
Schlock Mercenary iPhone App Apple-Approved!
The Schlock Mercenary iPhone app, which is disambiguously called "Schlock Mercenary," was approved by Apple today, and is now available in the App store.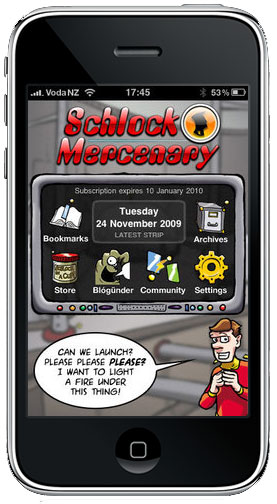 Click on the application image to the left, or follow this link to go directly to the iTunes store to have a look. If you're not using iTunes you can still check out the developer's page here. With this app you can now enjoy your daily fix on the go, luxuriating in features not available on the web! For starters, all strips are 28% larger than online, and the app lets you see the future with strips available 3 days ahead of the web. You can pan and zoom, or use the simple panel-by-panel navigation. You can create your own bookmarks, and they can automatically follow you through the archives, all the way from the very beginning. Yes, you get all this and more for only US$0.99 a month. You can also buy 6 months for only US$4.99. The first month's subscription is included with the initial purchase of the app for US$0.99. Subscriptions are purchased in the application with your iTunes account. Note: Requires iPhone OS 3.0. An internet connection and current paid subscription are required to download content. Strips are cached on the device, but are not stored permanently.
blog comments powered by

Disqus