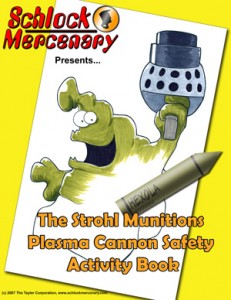 While Howard is off in Australia I thought it would be appropriate to put up a blog post which applies to the rest of the world. You see we printed up a small supply of Plasma Cannon Safety Activity Books for GenCon and we did not sell them all. So now I have made them available in our store. These are print books on paper and supplies are limited, so get one before they run out.
If you are one of those folks who prefers to read electronically, we still have the Plasma Cannon Safety Activity Book available as a pdf download. All you have to do is make a donation of any size via paypal.
When you're done paying, click "Return to the Tayler Corporation" and the thank you page will have a download link.
Not interested in coloring books? In the post book shipping clean up, we discovered some scratched and dented copies of Resident Mad Scientist. These books have been scuffed, bent, dented, or otherwise rendered unsellable as new. But we guarantee that no pages are torn or missing. You can find them in the clearance section of our store.
This should be enough to keep the rest of us busy while we wait with bated breath to find out whether Howard wins the Hugo on Sunday. If not, well, you can always go read the archive again. That'll last you for days.