Schlock Archives by Book
The Schlock Mercenary archives are deep. This handy page breaks them down by book, and provides teasers for each. Looking for a good starting point? If you don't want to go back to the very beginning, scroll on down to Book 10: The Longshoreman of the Apocalypse!
---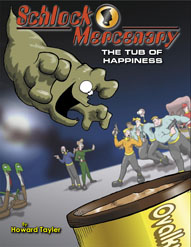 This is the first 507 days of Schlock Mercenary. Meet Schlock when he enlists, meet Breya when she buys the company he enlisted with, and meet Captain Tagon, who doesn't want to take orders from a woman. This 240-page collection of strips is in print, and you can buy it here.
Meet The Mercenaries
Diplomatic Pouch of Doom
Mini-Adventure Number One
Everybody's Gotta Eat
BOARDERS!!
The Shopping Trip
Bureaucracy Bountiful
Bombs Ahoy
Bounty Hunting
Big Haunted Battleship
Interlude: Interrogation
Big Haunted Battleship
Battle for the Wormgate
Union Blues
Interrogation Interruption
Equivocated Prevarication
Magic Dream-Land
Schlocktoberfest 2001
---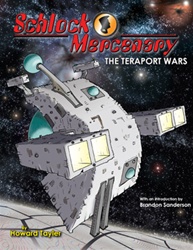 You've met the mercenaries. You've seen them kill or be killed. You've seen them kill AND be killed. Now see them recover lost body parts, fight in the biggest war on record, and create an entire demographic of clones. This positively ginormous assemblage of 493 strips, the second (and demonstrably better) half of the first 1000 in the archives fills 228 pages of book, and is available here.
Quest for Second Sight
..in which Schlock hires the company to help him steal a fresh set of eyes.
Part I - Through The Ages
Part II - Through a Darkened Glass
Part III - Through The Roof
The
Teraport

Wars

...in which we find that Admiral Breya Andreyasn has started a fight that the whole galaxy may need to help her finish.

Part I - Kickin' Buuthandi and Takin' Names
Part II - A Whole New Can o' Wormgates
Part III - F'Sherl-Ganni or Cut Bait
Part IV - Any Teraport in a Storm
Epilogue - Send in the Clones
Petey

Promoted

...in which everybody's favorite psychopathic, schizophrenic, cuddly, suicidally-inclined Artificial Intelligence is given a little bit of rope.

Sawed-Off Schlockgun
Filling the Tub of Happiness
Schlocktoberfest 2002
Post Post-Dated Check Loan
... well, that last bit could have worked out better. But things could be worse, right?
Part I - Raising Capital Offensive
Part II - Tandem Acts of Kindness
Part III - Handsome Ransom
Part IV - Tempestuous Fugitives
Part V - Might Makes Right-Of-Way
---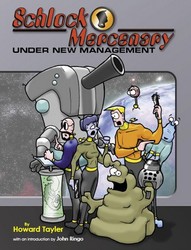 Captain Tagon, Sergeant Schlock, and the rest of "Tagon's Toughs" have been dragooned into hunting down an old friend. The trick isn't finding her. The trick is surviving long enough to get paid. This 80-page book is in print, and can be purchased here.
Part I - The REALLY Clever Monkeys
Part II - Tonight's Top Story
Part III - Board of Accidental Tourism
Part IV - Under New Management
---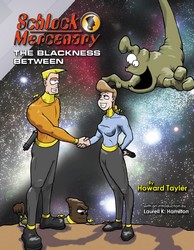 Tagon and company finally track down Admiral Breya. Explosions explode, treachery treaches, and the gorillas get naked. This 100-page book is in print, and can be purchased here.
Part I - Needle in a Haystack
Part II - Breya in the Zoojack
Part III - Trouble in the Outjack
Part IV - A Little First Contact
Part V - Backstabbing on the Fast Track
Epilogue - Taking a Crack at Payback
---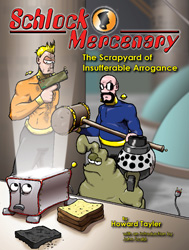 Captain Tagon, Admiral Breya, and their little fleet go hunting for work and spare parts... but not adventure. No, that was NOT what they were looking for. This 80-page book can be acquired here, and is also available with the first four volumes in a boxed set known as "Munitions Canister I."
Part I: Hand to Mouth
Part II: A Hand of Acey's (CSI Parody)
Part III: Handle With Care
Part IV: Hand it Over
Part V: Many Hands Make Light Work
---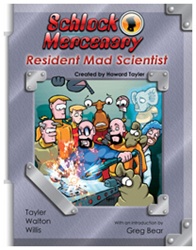 Tagon and company take a vacation, take a new job, and make some powerful new enemies. And then they discover that the galaxy may just need saving....
Released in July of 2010, you can get this 144-page book here.
Part I: Primate Principio
Part II: Schlocktoberfest 2004
Part III: Life's a Beach
Part IV: Old Habits Die Hard
Part V: Instant Replay
---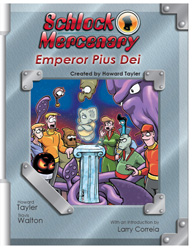 The Toughs get a new ride, an old vacation, and a chance to be on TV. Meanwhile, in the galactic core...
This 176-page book hit print in 2011, and can be acquired here!
Part I: Big Schlock, Little Schlock, What Begins With Schlock?
Part II: Schlocktoberfest 2005
Part III: Return to the Tub of Happiness
Part IV: Touch and Go
Part V: Glamour Assault
Part VI: Long Arm of the Law
---
Somehow Kevyn, Elf, Schlock, Brad, Nick, and Pronto have gotten themselves into primitive circumstances. Maybe things will get better if they make them worse first.
You can own the 128-page print collection, which first shipped in 2012.
Part I: Jeopardy
Part II: Schlocktoberfest 2006
Part III: Out of the Frying Pan...
Part IV: Do You Mind if I Rewind?
Part V: Dropping The Other Shoe
Part VI: ...And Into The Fire
---

How much money do you need in order to swallow your pride (and sanity) and rescue a mortal enemy? How many times can you get paid for stealing the same corpse? How many of those payments will you actually remember to collect?
The print edition is 128 pages thick, and includes the contents of the Strohl Munitions Plasma Cannon Activity Book.
Part I: King for a Day
Part II: Royal Flush
Part III: Schlocktoberfest 2007
Part IV: We Kept The Party Hats
Part V: Collecting
Part VI: Thanks for the Memories
---
New memories, new recruits, and a new contract. Welcome to Credomar, where things look like they can't possibly be made any worse.
The print edition is 160 pages thick, and includes the bonus story "Schlocktroops" by Jim Zub, illustrated by Ben McSweeney, and colored by Travis Walton. Wondering what a reboot of the Schlock Mercenary TV show looks like? Wonder no more!
Prologue: Drydock
Part I: Wet Feet
Part II: Enter the Longshoreman
Part III: Schlocktoberfest 2008 - A Wrinkle in Time
Part IV: Fuller's Soap
Part V: The Longshoreman's Apocalypse
Epilogue
---
Our merry band splits into four commands to raise money for repairs. They are going to get interrupted.
The Massively Parallel print edition is itself massive, at 256 pages thick. It includes the bonus story "Parallel Perspectives" by Howard Tayler, illustrated by Brenda Hickey, Keliana Tayler, and Travis Walton.
Prologue: Meanwhile, At The Galactic Core
Part I: High Olympus Command
Part II: Barsoom Circus Command
Part III: Credomar Command
Part IV: Mallcop Command
Part V: Command and Conquer
---
Hand-delivery of a wedding invitation drops Schlock, Bunni, Para, Legs, and Tailor into the middle of a drug war. They didn't start it, but they just might end it.
(Print edition due in late summer or early fall of 2015)
Part I: Black and White
Part II: Mass and Might
Part III: Fight or Flight
---
The Toughs take a job helping Gavcorps secure an artifact the size of a planet, and learn a thing or two about identity management in the process.
Part I: Read
Part II: Write
Part III: Execute
---
No ship, no job, and no prospects. But somebody did just pop a sapient balloon. Let's find out what's inside...
Part I: Breath and Business
Part II: Can Full of Sky
Part III: Exhalation and Exit Strategies
---
Hey, here's an idea. Let's take a job back in Sol System, one of the few places in the galaxy where they know our names and want to arrest us.
Part I: Confidence
Part II: Conflict
Part III: Conflagration
---
Cans full of sky, balloons full of star, and rogue artificial planets full of death: They're not dumb, but poking them to see how they work just might be
Part I
Part II
Part III
Part IV
Part V
---