I am, in a word, amazed.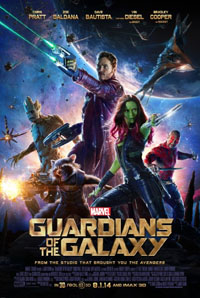 Guardians of the Galaxy accomplished what The Avengers accomplished, and it did it without requiring four movies of character development. The filmmakers delivered an ensemble superhero space-opera, gave us five fully fleshed-out characters, and had us laughing and cheering (and stoically holding back tears) through the whole film.
This is one of those films I want to watch again, only with a notebook. I want to to study it and figure out how they did what they did. Lots of it was brilliant writing, but the actors sold those parts to me, and the director, the editors, and the huge crew of technical wizards sold me the whole universe, and a really rollicking story.
I had a blast. So yes, it takes my #1 slot for the year, and I don't expect it to be displaced.
My eleven-year-old son also heartily recommends it. He said, and I quote, "this is the best movie," jaw agape, at least twice during the film. He was cheering for the characters in the final scenes. I had to shush him, because he was starting to cheer louder than the other people in the theater.
[UPDATE:] As was pointed out to me on the Twitter, and I quote:
@ajchid: You liked the hilarious space opera about a group of heroic ruffians from diverse, morally ambiguous backgrounds? Hmm...
If you're at this website reading this review because you read Schlock Mercenary, and you think that movies its creator enjoys might also tickle your fancy, there is a reasonable chance that you will love Guardians of the Galaxy because it scratches your "I want a Schlock Mercenary movie" itch. Assuming you have such an itch.

I don't see Schlock Mercenary in Guardians of the Galaxy, but that's the same as me being able to immediately recognize my house in a neighborhood full of similarly-built houses -- Schlock Mercenary is where I live, and Guardians of the Galaxy is a place where Marvel Studios invited me over for a party.

(Oh, yeah. Sergeant Schlock can totally be described as a blobby cross between Groot and Rocket, with "I want to eat that" substituted for "I want to steal that.")