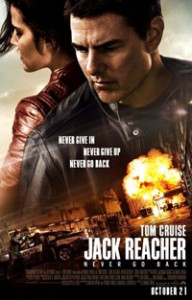 I took the advantage of $5.00 movie day at the local cinema to see Jack Reacher: Never Go Back. It's pretty much exactly what you'd expect from an espionage/action movie, down to the last trope, but I enjoyed it a lot.
My favorite bit was seeing Cobie Smulders' name in the opening credits, and before I could fully squee out, up came Aldis Hodge's name. Smulders is Maria Hill in the Marvel films, and Hodge was Alec Hardison in all five seasons of Leverage, and let's just say I was far more excited to see those actors again than I was to see Tom Cruise.
Jack Reacher: Never Go Back doesn't clear my Threshold of Awesome, but I liked it, and I think fans of the first film will, too.