Tuesday July 22, 2008
Booth 1330! Come See Me!
If you're coming to Comic-Con and you want to find me, Come through door B1/B2, head straight back through the rows of comic-book collector booths into the 1300 aisle, and look for the color orange on your right.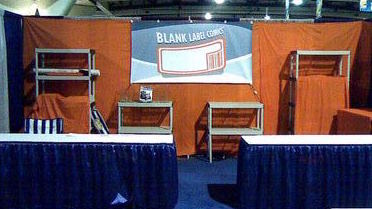 If you find yourself looking at orange and black pumpkins, you looked to the left. We're behind you now. Turn around.
Blank Label Comics is right next door to Penny Arcade, and just across the way from Dumbrella, Blind Ferret, and Studio Foglio. It's a choice location, and nirvana for hardcore webcomic fans. Come see us all! (But especially come see me. I have stuff you waaaant....)
blog comments powered by

Disqus