Friday October 6, 2006
Pre-orders Open on October 17th
The testing we've done so far has been GREAT. You've got until about 10am EST on Friday to take advantage of the Under New Management sale price, and then it goes back to being $15.00. We've uncovered a couple of issues that are going to take some time to resolve, but by the time they're fixed (early next week) I'll be on the road again. So: Pre-orders for Schlock Mercenary: The Blackness Between will open at 10:00am Eastern Daylight Time on Tuesday, October 17th. They will remain open for approximately three weeks, closing on November 8th.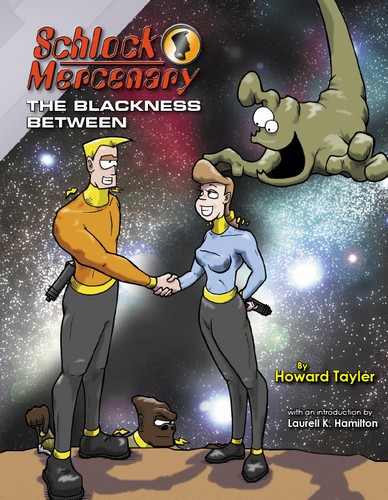 The price is unchanged at $15.00, even though this book is 20 pages longer than
Under New Management
. What a value!
Sketch Editions will be $25.00, and will be orderable from 10:00am EDT Tuesday, October 17th until 10:00am EDT Wednesday, October 18th.
This should give everybody on the planet ample daylight hours in which to order a sketch edition. They will be numbered, and limited to one per person, but I'll make as many of them as you guys buy in that 24-hour period. If you maniacs order 1000 of them, I'm going to be drawing for a long time indeed. For those not in the know... A sketch edition has a quick inked sketch from my hand, signed, on page 100 (the last page of the book), and a number written and stamped in the corner of that page. You can get me to sketch in your book for FREE at conventions, but those are unnumbered. And speaking of conventions, I will be at
Another Anime Con
in Manchester, New Hampshire all weekend. I will have 30 copies of
Under New Management
with me, and 27 Tagon pins. $20 gets you one of each. I'll sign and/or sketch in books for free, and I'll also whip out free sketches for you on whatever paper happens to be handy. If you want to commission something from me, talk to me in Artist's Alley for details. (I will also have the original, unique, one-of-a-kind press-match for
The Blackness Between
with me. Come get a sneak-peek!)
blog comments powered by

Disqus