Monday June 28, 2010
Skullkickers: Go Order This Comic Book!
My friend
Jim Zubkavich
sent me a PDF to his new comic book "Skullkickers," and I'm completely sold on it. The part where the big guy stabs a giant pot-bellied werewolf in the eye with a silver teaspoon? MAGICAL.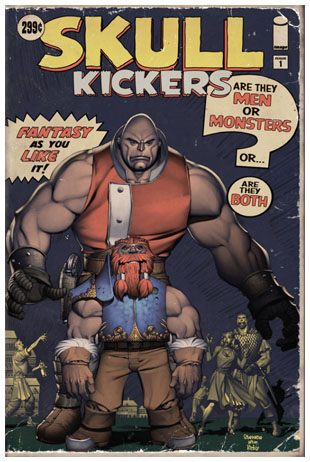 Skullkickers
is a fantasy action-comedy with a pair of hard-hitting mercenaries in the role of "hero." It's not a superhero book, and it's not a magical girl manga. It's a comic book that your RPG group wants to read, but it's not a send-up of
Dungeons & Dragons.
The cover image to the left? That's a faux cover, and it IS a send-up of many of those Golden Age covers we chuckle at today. The REAL cover is awesome in a completely different way. The world of print comics is hugely competitive and if the margins were any slimmer they'd be full-bleed*. Jim's got a great project here, though, so what he needs in order to succeed is for interested people to go out and order the book now. The first issue doesn't come out until September, but if you want one (this is print comics we're talking about, remember) you need to place your order at your Friendly Local Comics Shop sometime in the next 21 days. But don't wait. Do it now. To help you along, Jim has created
this page with a convenient print-at-home order form
that you can just hand to your home-town Comic Book Guy. If you need to see more before you sign up for this, try out some
preview pages
! I'm printing out my
order form
today, and placing my order for
Skullkickers
at
Dragons Keep
. And I've
already read the book...
blog comments powered by

Disqus