Saturday September 12, 2009
The Benefit Is Not Yet Over...
So... after all that talk about how much I didn't want to be running online collection for Jake, I've had a small change of heart. Small, mind you. Three items worth.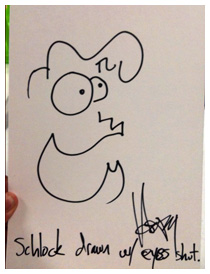 The first is a piece I was paid a dollar to create. The catch? I had to draw with my eyes shut. It's up on eBay right now. Everything above the eBay fees and the shipping costs will be donated by me to Jake. He watches this blog, and these auctions, so he'll be keeping me honest. It's the best we can do, under the circumstances. If I ever try to run an actual 401c Non-Profit then I'll have to hire an auditing firm, but for now, Jake audits. The next two pieces I'll blog about on Sunday the 13th. They're "Sketch Jams," where everybody present threw something down on the same piece of bristol. One is pencil only, the other has a mixture of pencils, inks, and even grey markers. Same deal on those -- everything above what eBay and the USPS charge me will go to Jake. If the bids go so high that I start seeing serious income tax penalties, well... I'll just have to take that chance. Watch this space!
blog comments powered by

Disqus