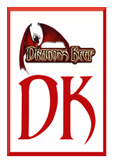 If you Utah folk dare to venture out-of-doors this Friday, Dragon's Keep is doing their first ever Black Friday sale. Board games, Warhammer, Hordes and Warmachine, and back stock comics are all discounted. Also, not listed on their announcement, Schlock books will be 15% off.
And I'll be there to sign them. I'm also going to get there "early" (10am, opening time) and do my Christmas shopping. There are some Warmachine models I've had my eye on, and Hordes and Warmachine are 40% off.
We're not doing the Boxed Set Bundle at the Keep, but at 15% off you can get a boxed set and book six for $102 tax, which, depending on your shipping options, is still cheaper than shopping at the Schlock Mercenary Store. Oh, and I'll be there to sign and sketch those books, which isn't an option online.
Dragon's Keep has been super-generous, providing me with a rent-free space for my drawing table in an environment conducive to creating speculative fictions. Come see me there this Friday, and look around at all the other goodies.