I'm glad we decided to leave the calendar pages blank.
See, we were in a hurry, and couldn't decide which holidays to include. So we shipped it blank, but included a "Handy Holiday Reference" with lots of holidays on it for you to transfer to your calendar depending on your tastes, and where you happen to be living.
Somehow we managed to get several dates wrong, usually by pulling them from 2011. The source of the error is irrelevant at this point. What you need is corrections.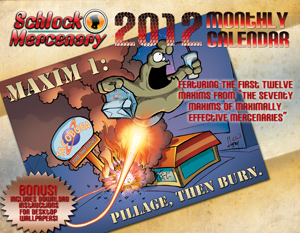 Here are the corrected versions of the entries we got wrong:
April 8th: Easter Sunday
May 13th: Mother's Day
May 28th: Memorial Day
June 17th: Father's Day
September 3rd: Labor Day (US)
November 11th: Armistice Day
November 11th: Remembrance Day
November 22nd: Thanksgiving Day (US)
When I say that the source of the error is irrelevant, I know that there are QA folks cringing. "How can you prevent errors in the future if you don't know the source of the mistake you just made?" Well, you can start with careful QA, which we did NOT have this time around. We're adding that to the 2013 Calendar project timetable.
Also on the timetable: I need to come up with seven new Maxims. No, I'm not soliciting suggestions. I've got piles of ideas to refine, sort, and deliver. Hopefully I can deliver at least a few of them in the context of the comic before 2013's calendar goes into print.
By the way, we still have some 2012 Calendars left. Order by December 12th and for most delivery types your packages will arrive in time for Christmas (here is the USPS holiday shipping calendar -- note that we need at least a day or two of lead time to prepare your package.)