In my most recent blog post I pointed you at a potentially oppressive list of merchandise, and it's possible that a few of you ended up with "analysis paralysis," the number of choices burdening you to the point that you chose nothing.
That's fine. Most of the stuff we have in the store will still be here in January. Books, shirts, patches, magnets, prints, dice -- even the mugs, which are in short supply, will likely get re-ordered.
But the Schlock Mercenary 2012 Calendar will not. This is a one-time print-run. So if you're trying to decide on just one thing, that's the thing to pick.
I have two incentives for you. First, another teaser.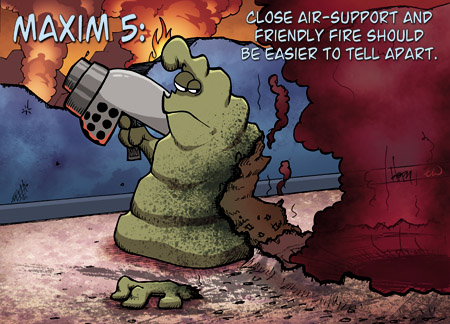 Second, once the calendar ships, everybody who ordered it will get access to the calendar images in desktop wallpaper format so you can continue to enjoy the images long after 2012 is gone.
Pre-orders close after Thanksgiving Weekend, probably on November 28th.