Look at what's coming...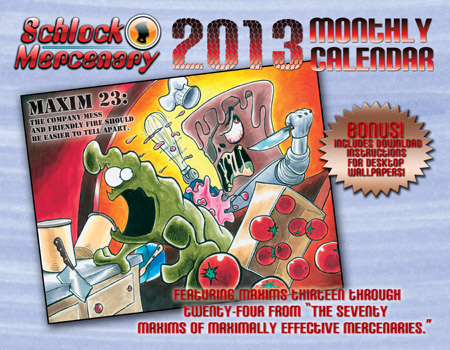 Pre-orders are open for the 2013 Calendar! Here are links!
Sketched Edition
Pristine Edition (that's marketing-speak for "make the inexpensive option also sound desirable.")
This calendar features twelve all-new illustrations, lovingly rendered in ink and markers by the Master of the Schlockiverse himself, Howard Tayler (I was going to say "yours truly" but this felt like a good time to use third person.) You'll find Maxims 13 through 24 from "The Seventy Maxims of Maximally Effective Mercenaries," as well as some small, spot illustrations which have appeared as marginalia in recent books.
The calendar pages themselves do not have holidays laid out on them. Customer response to that was overwhelmingly positive last year. Like last year, we will be providing a list of holidays so that you can begin defacing those pages in the manner that best fits your style and schedule.
And speaking of defacing, the last page is blank. For an extra $10 I will deface that page with a sketch.
The back cover, like last year, serves as a reference.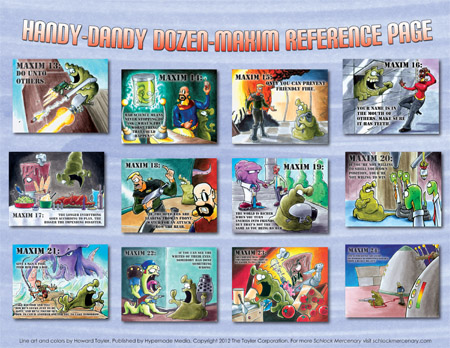 Note, please, that the pre-order window for these calendars is rather short. We are printing these domestically, so the turnaround is quick, but we need a count as soon as possible. Last year we had to bump up our order at the last minute, and still almost ended up running short (for "within 10%" values of "almost.") If you want one of these, please don't delay. Pre-orders close in about two weeks. All pre-orders will be filled, obviously, but after that point we guarantee nothing.
If you're interested in buying other things along with the calendars, we are pleased to be able to support you in that endeavor. The calendars box up quite nicely with any (or all) of the Schlock Mercenary books, which, as many of you are no doubt aware, make brilliant gifts, and it's that time of year again.
You know what also fits in a priority mailing box?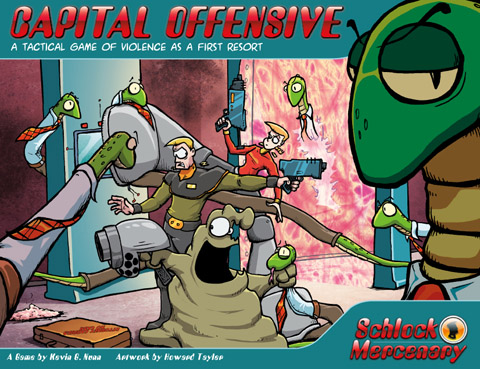 Oh yes, we have THESE in our store now too. Last year over a thousand of you helped make this happen by pledging your support (okay, pre-ordering) via our Kickstarter campaign. The game is a real thing now, and I still get a little giddy just looking at it. Playing it is fun, too.
For those of you uninterested in paper things, but covetous of all things digital, we will be doing an electronic release of the calendar images. That project is not as time-sensitive as our print run, so we don't have anything ready yet, but it's definitely something we'll do.