In case you missed the announcement last week, pre-orders are now open for the 2013 Schlock Mercenary Calendar, featuring Maxims 13 through 24 from "The Seventy Maxims of Maximally Effective Mercenaries." Each month features an original illustration, and there are some spot illustrations in the grids themselves.
Here are links!
Sketched Edition
Pristine Edition (read: "

unsketched

, less expensive, still awesome.")
Here are some interesting statistics regarding the primary illustrations:
Schlock appears in all twelve months

Tagon

,

Kevyn

, and

Ch'vorthq

each appear twice.
Doctor

Bunnigus

appears only once.
Weapon fire only appears on one page.
Weapons of some sort are displayed, brandished, or fired on two-thirds of the pictures.
There are five attorney drones.
Tentacles are featured in one third of the pictures.
Seventy-five percent of the pictures with tentacles have said tentacles in purple.
What does all this mean? That's for future generations to debate. For now, the salient point is that we're getting ready to place our order, and we don't want you to be left out. Based on last year's numbers, we only plan to print about 10% more than what we need to fill pre-orders.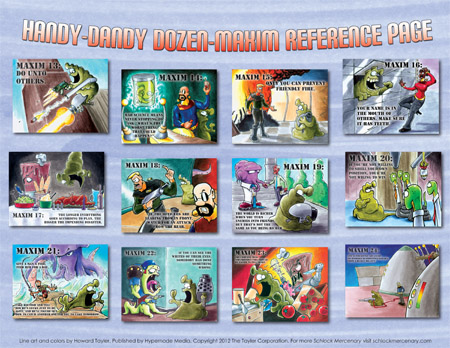 All calendar orders will include download instructions for desktop wallpapers that use the calendar art. This batch of wallpapers will make a lovely rotation if your operating system of choice supports such a thing. Which, this being the second decade of the 21st century, I cannot imagine it NOT supporting.