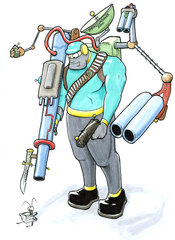 My buddy Nathan came out to Mountain-Con late last year, and commissioned a quick "there is no overkill" piece from me.
It's a fun, non-canonical Schlock-themed piece. He's using it as a Live Journal avatar. Click on through to read him blog about it.
I say "you can't currently have" this piece. I may drop it onto a print or something, if there is enough interest. I think I've got a high enough resolution version to do a good 16"x20" print. It would run around $15 or $20 shipped.