I didn't have any panels on Friday... at least no panels that I knew of... which meant I missed one. Drat. I spent the day working, and I cranked out a fun picture of Elf while hawking my wares. In a rare moment of foresight, I took a picture before I'd finished it.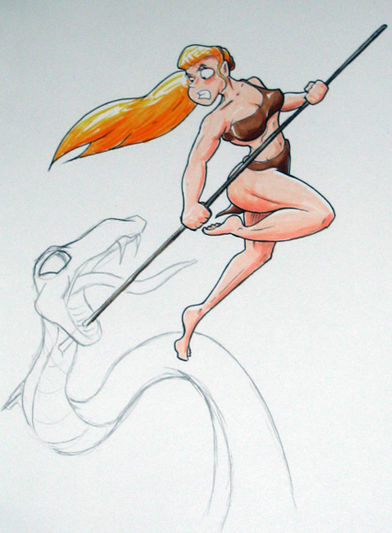 And here it is, done. If you like it I suspect it will be on the auction block in a week or two.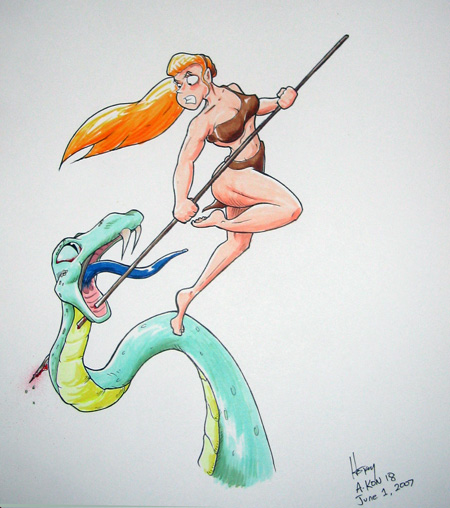 I think I mentioned that the convention was crowded. Drawing pictures of mostly-naked jungle women killing giant snakes was a calculated move that did, in fact, bring traffic to my booth. Unfortunately most of the time I was screened by crowds of people taking pictures of each other in costume at the bottom of the escalator. Or maybe it's fortunate that I was screened, because I actually got to finish the picture. Regardless, business was good.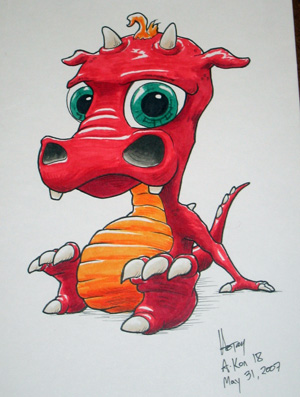 I sat next to Hope Miller, a nice woman who was selling assorted trinkets and stuff in order to raise money for a new floor for the ballet studio she runs. I donated a dragon to the cause, and I think it went for $10. Compare that to the auction prices you see for my stuff on eBay, and you'll know why you should be coming to these conventions... I allowed myself to be roped into the "Iron Artist" competition, which was kind of stupid of me. See, I'm more than happy to square off with any artist on an improvisational, "draw something funny fast" basis. This, however, was supposed to be a team effort, and I don't collaborate well. There were twelve artists and only three easels. I think the audience was entertained by our antics, but the artwork was largely incomprehensible, and the humor was banal at best. The verdict -- I was both bored AND out of my element. I appreciated the invitation, but I won't be doing anything like that again. The only upside was that I got to hang around with some cool artists, whom I later made time to talk to. My hosting guy, Troy Belding, took me out to dinner with his wife, and with Tiffany Ross and her husband. That was enjoyable and profitable, and the pizza was quite tasty. We discussed web stuff, and the fruits of that discussion should be visible here in coming weeks and months. I got to bed early (midnight IS early for these things) and discovered that a very loud party was right next door. Fortunately I brought my sleepy-time music with me, and was able to get a good night's rest.