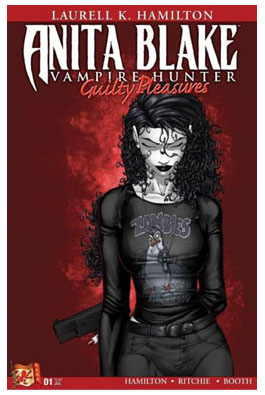 Laurell K. Hamilton is in town as part of a book tour, and her publisher has graciously padded her schedule with a little bit of down time. I drove to their hotel in Salt Lake last night, picked up Laurell, her husband Jonathan, and their security liason Charles, and we drove down to my place for dinner.
We had a great time. They're all three very interesting people, and we all had plenty to talk about. If you live in the area, she'll be doing a Q&A and signing in the Barnes & Noble at 1104 East 2100 South, Salt Lake City tonight at 7:00pm.
I got her to sign a copy of The Blackness Between for me last night (she wrote the introduction). Someday I'm going to have to pick up the Anita Blake comics and get those inscribed as well.