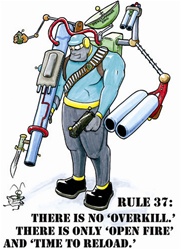 The first batch of new merchandise (based on old images, yes, but we've found new ways to sell them to you!) is ready for pre-order.
Let's start with that old standby from January, Rule 37. It is now available as a T-shirt (plain white, or "ringer" white) with a Schlock Mercenary logo on the back. The print process used on these is akin to inkjet printing right on the shirt.
The resolution and color depth is wonderful, and we've washed samples with hot water and BLEACH (not that YOU'd ever do that) and there's no noticable fading. I have a year-old shirt printed this way, and it still looks great fifty washings later.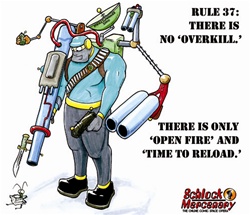 You don't want a T-shirt? Okay, okay. Here's Rule 37 laid out on a mousepad. I know, I know... some of you don't use mousepads. Lots of you DO, however, because optical mice don't always agree with shiny table surfaces. The mousepad is printed the same way the T-shirt is, so the colors look really nice.
Tired of Rule 37? I understand. Maybe I can tempt you with "Petey's Galactic Bath" on a mousepad. It can sit there under your deskrodent as a reminder to not let your sheer brilliance go to your head.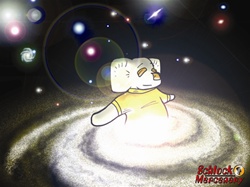 These three items are all on pre-order, and are all going to be printed by the same manufacturer here in Utah in the next couple of weeks. We plan to start shipping things out to you on or around May 20th, but it could happen sooner than that. Or a little later. We'll keep you posted. Watch this space.