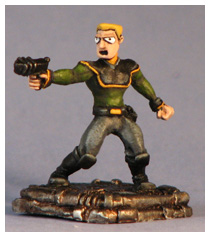 My friends at Garden Ninja Studios have 28mm "Captain Tagon" miniatures for sale now! They come pre-painted, patina-finished, or in bare pewter for those of you wanting to paint them yourself. They feature Tagon's new uniform from Longshoreman of the Apocalypse, and I love 'em.
We also still have Schlock minis in stock. Buy Tagon and Schlock together to save on shipping.
Right about the time Drew Olds (Tagon's sculptor and painter) was emailing me about availability, Sandra was sending Schlock Mercenary: Resident Mad Scientist off to the printer. This means that in a month or so we'll be opening up pre-orders for this book. But to whet your appetite, you can have a peek at the cover now.