I just got word that four pallets of books will be arriving at Chez Tayler tomorrow afternoon. We'll probably be ending pre-orders within a week, so if you're hoping for a numbered sketch edition, it's time to parlay that hope into action and place your order.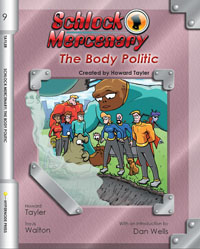 Here are direct links:
The Body Politic: Customer Choice Sketch Edition --$30.00
9-book bundle with a

TBP

sketch edition --$170
9-book bundle, no sketch --$160
My schedule for the next eight weeks is pretty manic. Sketch editions must be Sharpie'd, I have conventions on the 26-28th of July (Cascade Writer's Workshop & Jay Wake), the 15th-18th of August (GenCon Indy), the 28th of August through the 2nd of September (WorldCon 68/LoneStarCon 3), and the 5th-7th of September (Salt Lake Comic Con.) As of this writing I have comics drawn through August 10th, and scripted through the 24th. Obviously I'll need to spend time during the next little while making some more of those. Oh, and I have deadlines (again) for prose with Privateer Press, The Black Gate, Space Eldritch II, and Writing Excuses.
I'm not complaining. It's good to be busy, better to be busily employed, and best to be busily employed at a job I love. You fine folks and your pre-orders have made all this possible. Thank you!