As this week plows headlong into the Independence Day holiday, I have some things for you.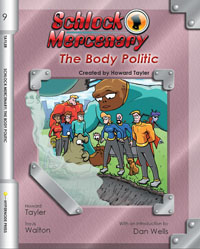 1) Preorders for our 9th serial compilation, Schlock Mercenary: The Body Politic, will open in one week. As usual, sketch editions will be available while supplies (as dictated by my hand) last. $20 unsketched, $30 sketched. Also available? All of the Schlock Mercenary challenge coins except the ones with serial numbers. The coins are in the store now, but if you combine coins with your pre-ordered book you'll save on shipping when we combine the orders.
2) Operation Baen Bulk, in which goodies are sent to the military treatment facilities (MTFs) at Fort Bragg and Camp LeJeune is under way right now. One of the prizes, awarded by random draw to donors at the $500 tier, is a complete set of Schlock Mercenary challenge coins, including the Series 1 Tagon's Toughs coin #32.
3) I presented at the annual convention for the American Association of Editorial Cartoonists this last Friday. It went far better than I feared it would, and almost as well as I secretly hoped. Any one slide of my presentation could have been broken out into an hour of detailed instruction, but that's the nature of trying to explain how my business works in 45 minutes. Alan Gardner did a good write-up of the whole event here.
4) The Kickstarter for A Knight in the Silk Purse closes this Friday! That's five days away! Wednesday night I'll be doing a Reddit AMA ("Ask Me Anything") with Dave Gross, Todd Lockwood, and R. Scott Taylor. We'll talk about the project, obviously, but per the title you can ask us anything. The link won't be available until Wednesday, but the AMA will fall into the Fantasy subreddit so you might be able to find it from there.
As I've said earlier, I'm doing a story in this anthology. As I have not yet said (not here, at least) my story will explore some of the peculiarities of that world's tome magic, and the tricky, persnickety manner in which powerful, dangerous focus items can be quickly created by tome mages and those who are unwittingly helping them.