Pre-orders are now open for Schlock Mercenary: The Body Politic, the ninth volume in the massively-serial space ope-- what am I saying? You people know all of this. I mean, you're here, right?
This volume is different from every other volume we've done. There is no bonus story.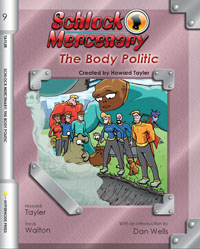 There is, however, a lot of other bonus material, including a bunch of new footnotes (I lost count), some single-panel comics I did for WorldCon that year, and the entirety of the Strohl Munitions Plasma Cannon Safety Activity Book (four pages of coloring book per page in this volume.) That pretty much had to be there, since it was mentioned during the storyline.
We are offering numbered, customer-choice sketch editions for $10 more, but those are only available while supplies last.
Here are direct links:
The Body Politic: Customer Choice Sketch Edition --$30.00
9-book bundle with a

TBP

sketch edition --$170
9-book bundle, no sketch --$160
If you would like to order other things at the same time, you may! We'll ship the whole order at once, just as soon as the appropriate books have been signed and/or sketched. The challenge coins are among the other things you may choose to put in this package. We minted enough of those to keep inventory on hand through (hopefully) the holiday season this year.
We plan to ship your books to you later this month. Inventory arrives in the next couple of weeks, and then the sketching will begin in hand-wrought earnest.
Why no bonus story? Well, I worked and worked on the story that felt right ("Dog and Pony Show" was brainstormed here by the Writing Excuses crew), but after all the hammering (and a few pages of art) it just wasn't any fun. That's a bad sign. Or maybe it's a good sign that the reader won't have fun either. So I devoted my energies to having lots of fun adding a dozen fresh, fat footnotes. I expect that these will bring you lots of joy.

Have I set a bad precedent for bonus stories going forward? The jury is still out. There is a bonus story in the works for Longshoreman of the Apocalypse (book 10,) but it's going to be a lot different than anything you've seen from me before.