I'll be at Webcomics Weekend on Saturday and Sunday, where I will be selling Schlock Mercenary 5-book boxed sets, plus the sixth book, Resident Mad Scientist, for just $100. That's the price of the boxed set by itself, so it's like getting book six for free.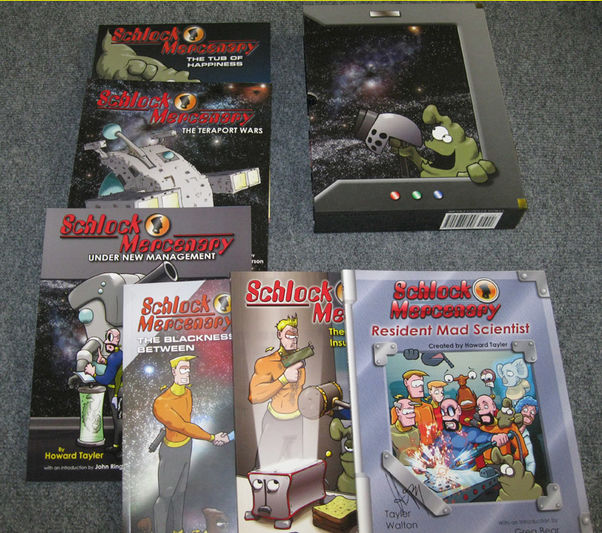 But not all of you live in New England where you can take advantage of this pricing. Unfair! So we've decided that between now and the end of the year, EVERYBODY can get the Boxed Set Bundle (while supplies last.*) Follow that link, or click on the picture of the stack of books before we run out!
If you've never bought a Schlock Mercenary book before, it may be because you've never personally handled one, nor seen the bonus stories or assorted marginalia that go into these tomes. Every Schlock book has an exclusive bonus story inside. Tub of Happiness features Schlock's last 24 hours before enlisting with Tagon's Toughs. Resident Mad Scientist includes the second first meeting of General Tagon and Captain Kevyn, plus gnomes and ninjas.
Additionally, these books have prettier, deeper colors than you get in the strips on the web. Jean Fioca colored the print versions of Under New Management and The Blackness Between. I recolored The Scrapyard of Insufferable Arrogance, and Travis Walton (whose coloring you've been enjoying for free in the current story, Massively Parallel) recolored Resident Mad Scientist.
These bundles are not scratch-and-dent discounts (though we still have some of those.) These are shiny, perfect books, which will, to paraphrase Rob Balder, increase the class and resale value of any piece of furniture you lay them on, but that's academic, since you won't be able to put them down.
*Note: The limiting factor in "While Supplies Last" is supplies of slipcases. We only have around 300 of these left, and can no longer offer to sell empty ones.