I've been lax in my duties. Lax, I say!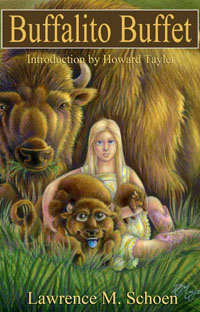 Months ago I wrote an introduction for an upcoming collection by my friend Lawrence Schoen. Well, the book hit stores, and shelves, and I neglected to say anything about it! But Buffalito Buffet is available now, in both hardback and paperback. I haven't read the new material that appears in this volume, but I've read most of the short pieces (originally published as chapbooks) and I find them absolutely delightful. I've also read both the novels, Buffalito Destiny and Buffalito Contingency.
If you want a sense of the tales, they're space-opera heists starring a hypnotist, The Amazing Conroy. His pet, an omnivorous, oxy-flatulent buffalito named Reggie, is prominently featured.
For the record, in an eating contest between Reggie and Sergeant Schlock, Reggie will win EVERY TIME. Also, the air will get fresher as a result.
UPDATE: Lawrence emailed me, and provided this link through which you can acquire electrons patterned into a novella featuring Barry the Buffalito, Lawrence's convention companion. A gift for you!
---
On an unrelated note, if you ordered 2013 calendars from us, they have all shipped, and according to USPS, they all shipped in time to be delivered by Monday, December 24th, at the latest.

It is now too late for us to ship things for by-Christmas delivery. Sandra and I are going to take the next few days off, so while you can still place orders, it might be the middle of next week before we ship things out.
Also, if you're a cap-and-mug person (or a cap-or-mug person) we've got a couple of new products coming into the store in mid-January: an embroidered, military-style Tagon's Toughs cap, and an 11oz stainless steel mug we're calling the Strohl Munitions Carabiner Cuppa. Here are the mockup shots.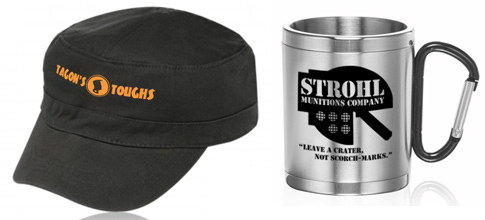 The Schlock Mercenary group over on Facebook got sneak-peeks of these, as well as the opportunity to provide some design input. That community has been thriving of late. If you're looking for the opportunity to talk about Schlock Mercenary, it's a fine place to hang out.