Kickstarter supporters of "Schlock Mercenary: Capital Offensive," (a tactical game of violence as a first resort) have begun receiving their orders. It's been just over a year since I playtested the prototype and gave Living Worlds Games the go-ahead, and it's been almost eight months since the project funded on Kickstarter.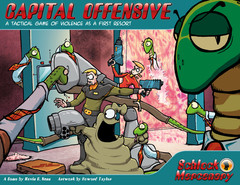 We're not breaking any land-speed records, but we're delivering the goods.
The delays were three-fold: First, yours truly panicked when he saw the art list, and didn't get started for two weeks. BAM! Two weeks, down the drain. Second, somebody used a preview image for production of tiles, and we had to re-print those. That cost us another three weeks or so. Finally, there were weather issues, and the shipment didn't arrive at the warehouse until just before GenCon. A delay of a week or so cost us around three weeks because everybody who needed to be building bonus packs was at GenCon instead.
Adding insult to injury, the non-Kick'd versions of the game were ready to go, so those were available at GenCon and WorldCon before Kickstarter copies could be shipped.
So... apologies all the way around, but you are getting your stuff right now. If you don't have it yet, that's because a man with a delivery truck still has it. The game is in the mail. No, really.
Now, if you're like me, you probably need help figuring out how to play brand-new board games, even if they've got excellent and explicit instructions. I think Nich and Kevin have put together a tutorial video for you. I'll link it as soon as I can find it (read: "as soon as Nich tells me where it is.")