Eighteen years ago I produced a Christmas album. One of the artists on my little record label, Douglas Bush, was involved with a very, very good church choir in Provo, Utah, and wanted to record and package their annual Christmas program. We recorded in late October, and the power of all that early Christmas music brought the snow down that evening.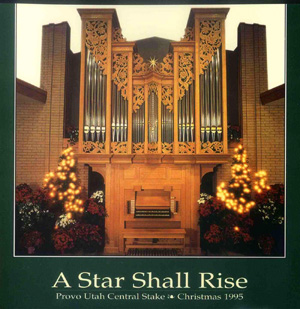 Today I found this page describing the project and properly crediting all those involved with it. The site also provides the MP3s and the cover art, free of charge.
Note, however, that it's an older website, and I suspect the weight of all you Schlock Mercenary fans descending upon it to grab MP3s might crush it, so read on...
The project was not-for-profit. We spent a few thousand dollars printing CDs, everybody volunteered their time, and we sold CDs for cost to choir members and others who wanted to use them for Christmas presents. What this means is that I am allowed to bundle up a ZIP file for you and give it to you for free. My site isn't likely to get crushed by the bandwidth drain, and if I have to spend a little bit of money on bandwidth surcharges, that just means this Christmas present from me to you didn't actually cost me nothing. I'm okay with that.
Here, then, in three chunks, are the zip files for "A Star Shall Rise," by the Provo Utah Central Stake, Douglas Bush conducting, with Larry Tomkinson at the organ. It's a 57mb download, and it's yours for free.
Tracks 01-06 || Tracks 07-12 || Tracks 13-17 cover art
I was just the producer, the one fronting the money for the printing, and making sure that everybody else was doing their job (which, expertly and without exception, they were.) I worked with numerous musicians in my five years as a record producer, and these amateurs from the Provo Utah Central Stake were among my very favorite.
Merry Christmas, everyone.