The last couple of days have been busy. Sandra took pictures.
I'll be in Salt Lake City for CONduit XIX: The Evil Overlords of CONduit. I'm giving the keynote address at 5:00pm Friday, and throwing a party from 4:00pm to 6:00pm on Saturday. Lots of my stuff, including framed cel prints and some cool XDM artwork will be on display in the Art Show.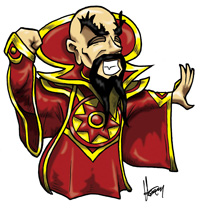 Finally, my take on a bunch of evil overlords from film, television, comics, and animation will be worn all over the show as badge art all weekend, or at least until attorneys from certain entertainment companies arrive with C&D orders.
Registration is required for the full convention, but if you just want to come to the book launch, that's completely free. And now, my full schedule, complete with links!
FRIDAY
2:00pm - How Do You Write A Great Evil Overlord: Clint Johnson, Ann Sharp, Roger White, Dave Wolverton, Howard Tayler, Dan Willis
3:00pm - How to Draw Evil Overlords: Howard Tayler, Jessica Douglas, Brian Hailes
5:00pm - Main Address: Howard Tayler
6:00pm - The Howard and Sandra Show, Part I: Structuring For The Creative Life
SATURDAY
10:00am - Howard Tayler Reading: (I won't be reading comics to you. I'll be reading some humorous essays.)
12:00 noon - The Howard and Sandra Show, Part II: The Nuts and Bolts of Running a Creative Business
1:00pm - Writing Excuses Podcast, with a Live Studio Audience: Brandon Sanderson, Dan Wells, Howard Tayler
4:00pm - Scrapyard of Insufferable Arrogance Launch Party: Howard and Sandra Tayler, a Plasma Cannon, a Big Hammer, Free Food and Drink, and Schlock Mercenary: The Scrapyard of Insufferable Arrogance
SUNDAY
2:00pm - My Favorite Books - What Are Writers Reading? Jessica Day George, Howard Tayler, Paul Genesse, Brandon Sanderson, Lee Allred, Larry Correia
4:00pm - Aspiring Writers Q&A: Larry Correia, Dave Wolverton, Eric James Stone, Paul Genesse, Julie Wright, Howard Tayler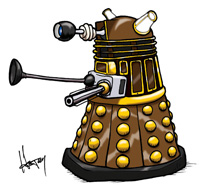 We'll have copies of all the Schlock books, the boxed sets, and a number of prints for sale in the Art Show, so don't look for me in the Dealer's Room. If you can catch up with me, I'll have a sharpie in my pocket and will cheerfully deface things at your request. Yes, I will even sign your badge.
The absolute best time for signing, though, is at the book launch. Not only can I do free sketches there, I can do numbered sketch editions ($10 extra). I can stamp, number, and then sketch your copy of Scrapyard. We've set aside numbers 11 through 25 out of 1000 for this event.
Remember, if you want to pick up your pre-ordered copy of Scrapyard you must bring a copy of your receipt with you. In lieu of refunded shipping please enjoy some free food and early super-express-personalized delivery of your book!