Day Three began early -- I arrived at the hotel by 8:15am in order to lay claim to a table. With my territory staked out, I was able to relax for an hour or so before the convention-goers began awakening and wandering about in the customary Day-Three Morning Stupor. The Con Chair, Mike Oberg, was in enough of a stupor that he dropped off a couple of photo CDs from past CONduits, free of charge.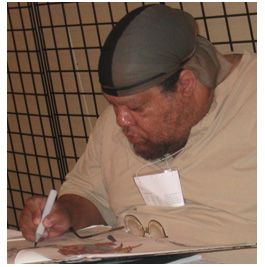 Said stupor did not prevent Mike from running the 10:00am "Making your Mark" panel. Newton Ewell and I worked with Mike to explain and demonstrate marker-art for a fairly full workshop. The Tombo markers Mike brought along had excellent brushes, but after sampling everything he had with him I was still happy (indeed, sold) on the Copics I already own. Newton (pictured to the left) has some, too. In a stroke of good fortune, Mike had a refill bottle for one of my dry Copics, and let me top the marker off. Yay! Now Tagon's shirts can have multiple shades of orange again. And that was it for panels for me. I sold books and did a few sketches in the morning, and was very pleased to sell one of my CONduit Wizards from last year to this year's art director.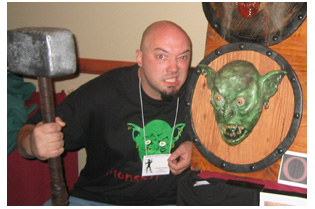 Eventually I decided that I wanted pictures. I'm tired of going to these things and not remembering who's who. So I snapped a bunch of pictures, sadly missing the opportunity to catch Nathan Shumate on film. I'll probably forget his name again next year. I did, however, catch Ronnie, the Monster Hedz guy. We met a couple of years back at the now-defunct "AutumnCon." If you've ever wanted to mount an orc head on your wall, he's the man to talk to.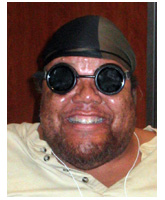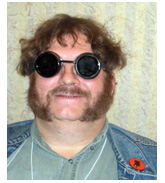 You know how it is when you get a camera out. People start reaching for props. In this case Newton Ewell and Brook West decided to take turns with my Girl Genius goggles. I took lots of other pictures, too, but I shan't subject you to my photo album. Satisfy yourself with these cool shots of my begoggled buddies. While wandering around I met the ladies from RFF Utah (a reading advocacy group.) I donated a couple of damage Schlock books to them in the hopes of infecting the children whose school libraries the books are supposed to end up in. Julie Frost let us know that she'd just sold a story, and after sketching in the book she bought from me I felt inspired to whip out a contextually-appropriate caricature for her. I have it on good authority that she was so happy with it she decided to use it for an LJ icon.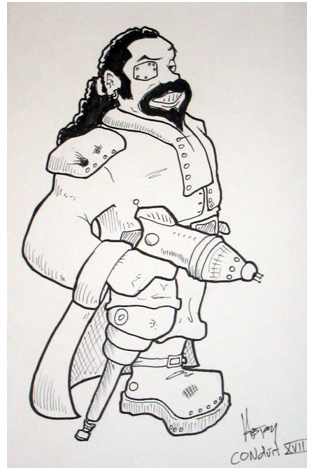 I'm especially happy with my final caricature of the day. Bear, a Schlocker who had already purchased books earlier, decided he needed a picture of him as a pirate. Mid-picture, we decided that he needed to be a futuristic pirate, complete with a raygun styled from the serials of the early 20th century. The picture was a lot of fun to draw, and not just because I enjoy drawing pirates. Bear's grin was infectious -- my depiction of it pales in comparison to the real thing. I had so much fun I almost felt guilty taking money for it. Then again, as soon as I had the money I went back to icing my arm (it really did hurt -- I'm not just being a baby) so there's no way Bear's getting it back. The convention wound down as conventions are wont to do. I met a couple of the actors behind a local indie SF show called "D.I.P.S," and generally basked in the sunset of the event. Per tradition, Bob Defendi, Dan Willis, and I decided to invite the Guest of Honor to dinner. David Weber accepted, and I had the pleasure of driving David and Sharon Weber to the Blue Iguana, where our party was rounded out with Eric James Stone. The six of us enjoyed authentic Mayan moles (well... except for Eric -- he ordered a plain-jane chimichanga) and swapped some very amusing stories about conventions, firearms, and the occasional blending of the two. I bought an extra entree for Sandra (stuck at home with the kids), and following dinner I had a very relaxing drive back home. Again, broad freeways with little traffic, my iPod cranking something drivingly weird... it was nice.