Chimaeracon is a great little gaming convention, with around 300 attendees. When I attended in 2006 I got introduced to Frag, and Al Griego planted the seeds for getting me hooked on mini painting.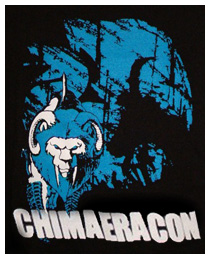 Returning in 2008 was huge fun. The hands-down flashiest bit was the Mechwarrior pods brought in by Mechcorps of Houston, where you actually climb inside a cockpit, shut out the world, and play Mechwarrior with two sticks, two pedals, six screens, and I don't know how many buttons.
I got three free games, thanks to my GoH status, but had I been spending money it would have been worth every penny. Sadly, for most of my games I was playing against experts. I spent a lot of time getting blown up. I did, however, get a very cool t-shirt from them. Death from above, indeed...
I had some great conversations with the other Guests of Honor. John Picacio (recently nominated for a Best Artist Hugo) and I discussed book covers we like and don't like. Marc Singer (The Beastmaster himself) and I talked about the "1000 True Fans" business model, and how microcelebrities like me (I'm eFamous) can actually make a solid living.
I played an awesome "Dungeon Crawl" using Reaper's Warlord rules and figurines. Vince Hendricks ran a great game, and I actually managed to come back from behind and win. What did I win? Well... Reaper minis, which I'm now looking forward to painting.
I couldn't possibly play a tenth of what was being played at Chimaeracon this year. If you like games of any kind, and you live within an hour or so of San Antonio, this event is well worth your time in 2009.