I gushed over Brian McClellan's Promise of Blood back in January. His debut novel read like the work of a seasoned master: engaging characters drew me into a fresh and fascinating setting, and despite multiple plots and points of view I never got lost, bored, or whiplashed.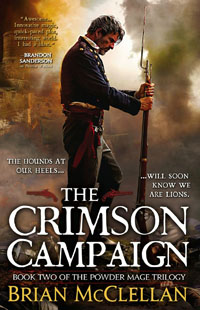 The sequel, The Crimson Campaign, releases on Tuesday May 6th. If I have a complaint, it's that it is the second book in a trilogy and not the second AND third book in one bundle. It's just as compelling as the first, and though I'd love to talk about why I love it in specific sorts of terms, I'd rather not spoil the first book for you by talking about how the characters deal with the consequences of some legendarily heroic actions.
Lots of you have already picked up Promise of Blood on my recommendation. None of you have yet emailed me to call me a liar or a shill, which I suspect you would have done if my bold claims hadn't been validated by your own reading. At any rate, if you liked Promise of Blood, you're probably already hungering for The Crimson Campaign.
(I know I was, but Brian's publicist was kind enough to send me an advance copy so I'm not actually hungry anymore. Unless you count my hunger for The Autumn Republic...)