Dragon*Con! I will soon be in you!
Barring shiptastrophes my books can be found at The Missing Volume, booth 614 & 615 in the Marquis. Shop early, though. Shipping was expensive, so I was guided by my budget rather than by my ever-brimming optimism. The Missing Volume only has a dozen Emperor Bundles (all 7 books a nice shopping bag) for $120.00 each, and a small stack of each of the single books.
We also have two dozen copies of XDM: X-Treme Dungeon Mastery, the role-playing supplement I illustrated for Tracy Hickman. He will be at the show too!
John Ringo will also be there. Do you want the inspiration for "Tyler Vernon" to deface your copy of Live Free or Die? I'm on the case!
I will sketch in the back of Schlock Mercenary books, XDM books, and Ringo's Tyler Vernon books, but if you wait until my autograph sessions to shop you might be out of luck. Supplies are limited.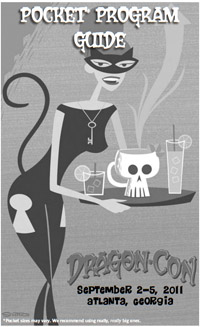 Booth times! Panels! Schedule!
Friday
I'm arriving at 3:

00pm

and rushing like the wind to my first event...
5:

30pm

- Reading, Roswell in the Hyatt. I'll read an essay or two, and maybe one of my short fiction pieces. Q&A, too!
Saturday
10:30-11:

30am

- Signing at The Missing Volume, Marquis Ballroom, with Tracy Hickman. I'll have a sharpie. Tell me about your character.
4:

30pm-8pm-ish

-- Parsec Awards & Reception, Hyatt Regency V Ballroom. Writing Excuses isn't up for any awards this year, but we plan to congratulate our peers.
Sunday
2-3pm

-- Signing at The Missing Volume with John

Ringo

. Bikini-cat from Trade Hard, anyone?
4:

00pm

- Autograph session,

M301-M304

in the Marriott. Did you miss me at The Missing Volume? Catch me here!
7:

00pm

-

Webcomics

panel, Crystal Ballroom in the Hilton with Bill Holbrook, Hunter

Cressall

, Karl

Kesel

, and J.

Lothshaw

.
8:

00pm

- Dinner Plans, I have them. Must run. Sorry.
Monday
Watch my Twitter feed. I'll probably show up at The Missing Volume in the morning to sign and sketch for anybody I missed.
I don't know what time I'm leaving, but I'm definitely leaving Monday. I have a Writer's Retreat in which to expeditiously withdraw.