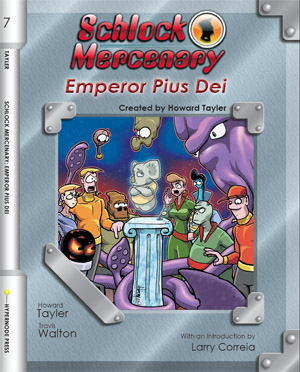 Sandra and I will have our advance copies of Schlock Mercenary: Emperor Pius Dei, our seventh print collection, by June tenth.
Mark your calendars. Pre-orders will open on Monday, June 13th by 8:00am Mountain Time. This 175-page volume features fifteen pages of bonus story, piles of additional sketches, and an introduction by one of the 2011 Campbell Award nominees, Larry Correia. Every strip has been lovingly and painstakingly re-colored by Travis Walton.
Obviously such a tome is priceless, but we've attempted to price it nonetheless, boldly placing a $20.00 price-tag on it. For an additional $10 your copy will have a numbered sketch on page 176. In order to preserve my hand and sanity we sell a limited number of these, so please don't delay in your ordering.
These books will ship to you sometime in mid-July. I'll also have limited quantities with me at GenCon, WorldCon69/Renovation, and Dragon*Con during August and September.
June 13th is the day after June 12th, which is the 11th anniversary of the debut of Schlock Mercenary on the web. Auspicious!