Pre-orders for Schlock Mercenary: Emperor Pius Dei, our seventh print collection, open this coming Monday. Yes, we had a false-start a couple of weeks back Sorry about that.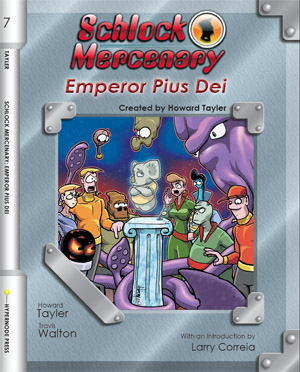 Mark your calendars (and... um... erase the old mark?) because pre-orders will open for sure on Monday, June 27th by 8:00am Mountain Time.
Emperor Pius Dei has 175 gloriously colorful pages, making it our third-largest volume to date. Fifteen of those are bonus story pages, but the extras are also found throughout the rest of the book -- there are piles of additional sketches, marker art, Touch And Go deck plans from Brook West, and an introduction by one of the 2011 Campbell Award nominees, Larry Correia. Every strip has been lovingly and painstakingly re-colored by Travis Walton.
How did we go about pricing an obviously priceless (if mass-produced) artifact? Simple mathematics! It's 11 cents per printed page, plus 75 cents to wrap a cover around it. The universe must like round numbers, because that came out to exactly $20.00. For an additional $10 your copy will have a numbered sketch on page 176. In the interest of continuing to not injure the cartoonist beyond that which he is able to heal without magical aid, we place a limit on the number of sketch editions. Don't delay when ordering.
Hey, Canada! We've gotten word that due to the strike by the Canadian Union of Postal Workers, USPS is not currently accepting priority mail parcels for delivery in Canada. Canadian customers take heart! We here at Schlock Central will happily accept your order in spite of this. We're planning to ship on July 25th, by which time USPS will have sorted things out with their Canadian friends, and in the unlikely event that they haven't then we'll just use FedEx ground and take care of the additional expense without troubling you.