If you're here in Utah, and if Dragon's Keep is at all convenient to you, there are fifteen order forms for numbered sketch editions to be found there behind the counter. We've held books in reserve for this. Just pay your money there at 260 N. University Avenue in Provo, fill out the form, and your order will be waiting for you behind that same counter on (or maybe even BEFORE) July 25th.
Just under 19% of our sketch editions remain as of this writing. Don't despair, though. There's something else special in the works, and you don't need to have obtained a Numbered Customer Choice Sketch Edition to get it. You see, when Travis joined the team as our colorist we put his name on the covers. That functions as a perfect place for him to put a signature...
Travis Walton will join me in signing all our shipping copies of Resident Mad Scientist and Emperor Pius Dei -- the two volumes in which his colors currently appear -- so if you pick up these titles during the pre-order period, there will be two signatures on the cover, one from Travis, and one from me. I'll also be signing all the other books (oh so very busy my hand will be that day) so pretty much all the printed matter you acquire from us will arrive at least slightly defaced.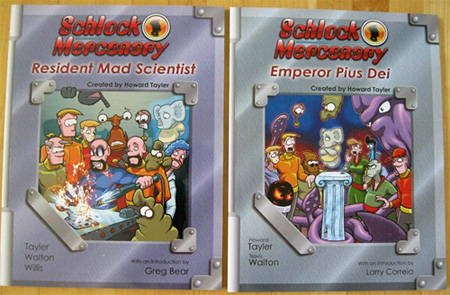 It's a small thing, but it seems fitting. Travis did fantastic work on both of these titles, and continues to be brilliant with what he's doing for Force Multiplication as it unfolds on the web.
Note: Thursday, June 30th from 11:00 pm until 3:00 AM PST our store provider, Volusion, will be conducting maintenance. You may experience intermittent connectivity to the store front. They've promised to keep the interruptions to an absolute minimum and to monitor systems closely so they can jump on serious outages.