Sandra and I have done three of these "Schlockfest" things in conjunction with our other travels, and anymore I think they're going to have to become a LOT more common. Then again, finding venues as wonderful as the Strohl residence in the Seattle area may prove to be difficult.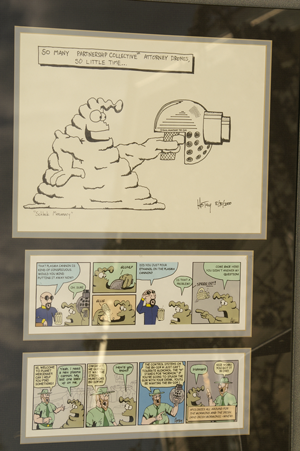 Dan Strohl was the first true Schlocker -- he was the first person to ever pay actual cash money for artwork of mine. I drew a picture of Schlock for him, and in honor of what I knew even then to be an auspicious event, I wrote "Strohl Munitions" on Schlock's plasgun. That piece is very attractively framed in Dan's house along with a couple of prints made from high-res TIFFs I sent to Dan. So... I kicked off Schlockfest with a warm-up piece. I drew that same picture again -- Schlock with his Strohl munitions plasgun, aiming to the right -- only this time I used markers and did it up in color, complete with some spray effects for the plasma stream. I was pleased with it, but when I compare the two I can't help but think that the new one lacks the character of the old one. Sure, it's "better" in a lot of ways, but in the presence of the original it seems kind of pale. Weird.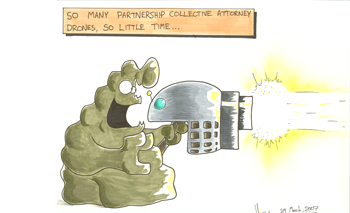 As I was finishing up, the first of the guests arrived. Within about 45 minutes we had a dozen or so people in the house munching on snacks, chatting, laughing, and politely watching as I whipped out marker art for them. I think the fan favorite of the evening was Captain Kerchak in a backless dress, executed for Tony "Bemlet" Bemrose while he looked on not realizing that it was for him. If you recognize the name, that's because Bemlet is one of the Nightstar folks (pictured below scowling at the camera, picture courtesy of Kreely). You might also recognize Pi, Kreely, Darth Paradox, Raif, and Magnetic Cheeks. Many of these folks were at Fandemonium back in August of 2004 -- Schlockfest Seattle felt a little bit like a family reunion.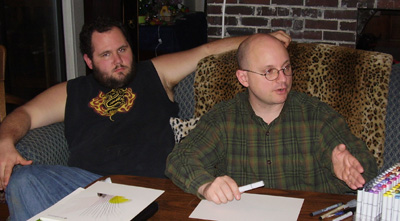 For our last hurrah of the evening I let people have a look at the next two weeks of Schlock Mercenary strips. They got to read through April 14th, which means that the read-ahead party ended just one day before things get really interesting. Readers in the United States might expect me to say "taxing," but I shan't do that. I've had puns enough for the entire weekend thanks to Chris "Darth Punzalot" Battey. Speaking of weekend, Emerald City Comic-Con starts tomorrow morning. It's time for me to start getting ready. If you're in the area, and I didn't see you last night, I hope to see you tomorrow!