Sandra and I will be at the Salt Lake Comic-Con "Fan Xperience" this Thursday, Friday, and Saturday. We're exhibiting in booth 2017. Travis, our colorist, will also be at the event, and you can find him in Artists Alley, table Q10.
Oh! The treasures!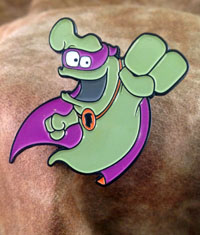 When we moved from two storage units to one warehouse, Sandra began sorting all of the things, and she found some goodies that we thought we'd run out of. We have the very last of the laser-cut acrylic magnets, some posters, some mugs, and a very small collection of the Series 1 Tagon's Toughs coins, numbered in the 300 range.
We will also have two new pins, Ennesby and Petey, as well as the pictured "Schlock-in-a-Cape" lapel pin, which is a convention-exclusive. Ennesby and Petey will appear in the store, but Caped Schlock you have to get in person.
As an added treat, if you come by the booth you'll be able to gently rummage through a selection of original artwork for covers, calendars, and assorted other things you might not have seen. Even if you're not ready to buy and display artwork this should be fun for you to peruse.
Meanwhile, over at Travis' table he'll be doing commissions, and he'll have lots of prints and bookmarks for sale.
My schedule is below. The bold items are panels where you can be sure to find me, and the plain text is booth time, probably. Depending on connectivity, you might be able to find me via the @HowardTayler Twitter feed.
THURSDAY
12:00-1:45 - The hall opens, and I'm at my booth
2:

00pm

-

251a

- Taking the First Step: Creating an Independent Comic Book
3:30pm-8pm - I'm at my booth, give or take some breaks for food and sanity
FRIDAY
9:

00am-11

:

45am

- The hall opens! I'm at my booth.
12:

00pm

-251a

- "Writing Humor"
2:

00pm

-151a

- "Designing Your World: A Guide for Writers and Artists"
3:

00pm

-255a

- "Writing and Mental Health"
4:

30pm-8pm

- I'm at my booth, again with some give or take.
SATURDAY
9:

00am-9

:

40am

- The hall opens. I'm at my booth briefly.
10:

00am

-355- "A Career in Comics: How to Get Noticed, Get Work, and Stay Employed"
11:

15am-1

:

45pm

- Booth time! So busy!

2pm-3pm

-205a

- "

XDM

:

Xtreme

Dungeon Mastery" (and the upcoming

Xtreme

Player Codex!) with Tracy Hickman

3pm-4

:

30pm

- I'll be at Tracy Hickman's booth signing and sketching YOUR CHARACTER in copies of

XDM

.
5:

00pm

-255a

"

Webcomics

: For the Zillionth Time a Comic Convention Names This Discussion Blandly" (subtitle added by me)
6:

15pm-8

:

00pm

- At my booth, scrambling to do the last sketches and sell the last convention exclusives before the doors close.
Our booth is almost directly under the "2000" sign that hangs from the ceiling, but if you'd rather have a map than a landmark, here is a helpful* map!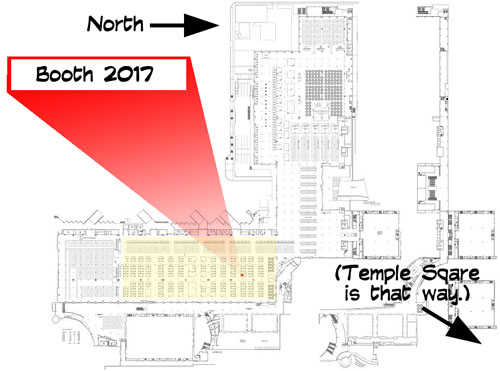 (*For "very teency, hard-to-read, but I think I can see Howard from here" values of "helpful.")