Sandra was photographing my new boots, and found herself quoting Schlock... "For boots like these, I'd grow feet." They are quite nice. But let's backpedal. I love New Rock Boots, but it's hard to find a good selection of them anywhere. Then I found out that they have a small distribution center in Las Vegas, Nevada, at 804 S Las Vegas Boulevard. That's about ten long blocks north of where The Strip really gets going, and several blocks north of where 4th splits off to the west.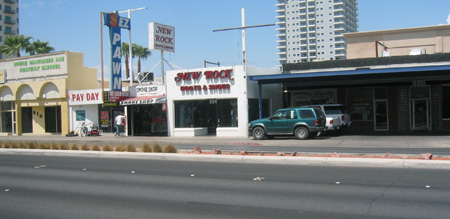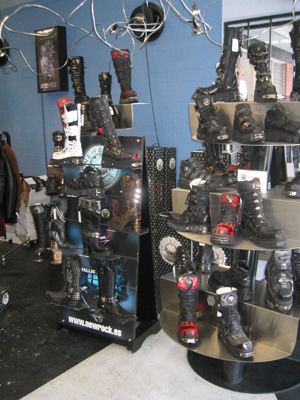 This photo was taken across the street. The New Rock store is not in the best part of town, but nobody stole my car while I was boot-shopping, and the folks in the baked-potato restaurant where I took the photo were quite nice. The lady at the pawn shop next door had a horror-story or two to tell about her clientele, though, so if you're looking to boot-shop with an air of danger (only without so much actual danger) this is the place. The store is nice on the inside. Lots of boots to choose from. Jennie Breeden (a fellow cartoonist, con-goer, and New Rock aficionado) would be happy there. Anyway, thanks to your patronage, I was able to buy my first new pair of boots in three years. Not only that, but they're easily the biggest, kickin'-est pair I own. Here's an unassuming picture, where my pants are covering all but the business end.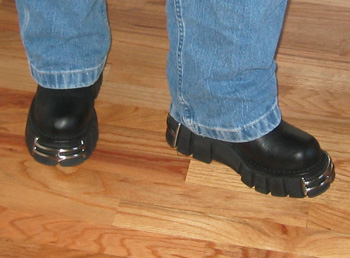 And here's a shot showing the rest of the story. Oh yeah, baby. These boots go all the way up. (To my knee. Almost.)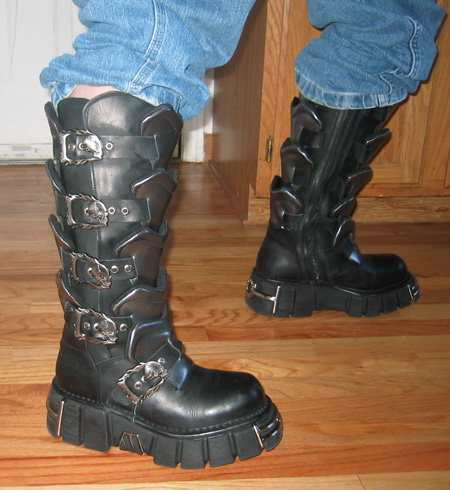 I'm wearing them now, breaking them in. If you're going to be in Provo at Dragon's Keep this week, you'll probably be able to see them there. And now, back to work with me. I spent a week at Comic-Con, and I probably ought to blog a bit about what went on there...