You guys blew past the "give me more dice" mark in less than a day, and are well on your way to "now Schlock can fly." Our next overfund mark, just $2100 away (that's 38 domestic copies of the game) gives all supporters an additional way to play Sergeant Schlock -- flying across the battlefield on a column of plasma (please do not fly over allies.)
We're also pricing some other overfund options. The designers honestly were not expecting to have twice the amount of money they required on hand to produce the game, and are scrambling to take things up a few of those "notches" everyone talks about.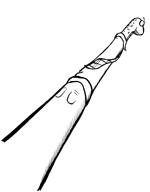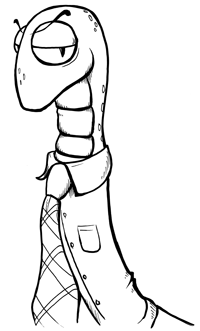 The design of the cover is coming along nicely. I drew the following two foreground elements, scanned them, and sent them off for coloring. Travis turned them around very quickly, so that by the time I was ready to sit down and draw background elements I had all the foreground and mid-field layers in color in front of me, and knew where things would fit.
So I printed out a copy of the foreground art, traced pencils over the front of the page, and laid it face-down on a new sheet of paper. I then scribbled on the back, which transferred the pencils to the new sheet.
(Note: there are ways to accomplish this with technology, but pencils were good enough for the Cosmonauts, so they're good enough for me.)
Anyway, I now had light penciling of the foreground on a fresh sheet of paper. I began drawing walls, an open-faced teraport cage, and of course more attorney drones.
The final piece isn't colored or lettered yet, but here's what it looks like at this point.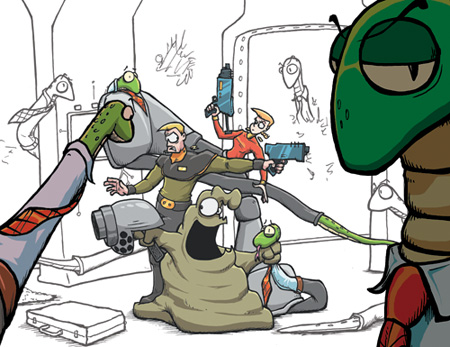 There's still a bunch of fine-tuning to do, but I like the way it's coming together.