I'm off to Gen Con Indy! Wednesday will be spent prepping booth 745, which I'm sharing with Jim Zub and the legendary Tracy Hickman. The show starts on Thursday.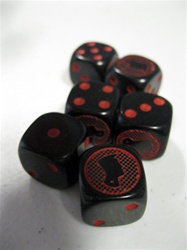 If you're going to be there, stop by the booth and say hello! I'll give you a ribbon! Any book you buy from me at a convention qualifies for a free sketch in the back, and we'll have lots of goodies on display in the hopes of claiming a small portion of your discretionary income. You get something fun, I get to feed my family and try to put my 17-year-old daughter through college. (Yes, I have a 17-year-old. She was five when I launched this webcomic. Time, it flies.)
For those of you not attending the show, you can visit store.schlockmercenary.com and see the new odds-and-ends for yourself. And even after the shipping fees, you save money by not needing to buy a convention pass! We have new sets of Tagon dice, Maxim 7 grocery totes, lots of t-shirts (all the pre-orders have shipped! Some have arrived!), collapsible water bottles, fridge magnets, patches, pins, neck wallets, and lots of gloriously shiny books.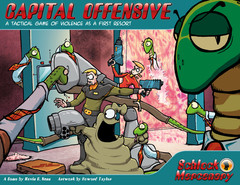 Capital Offensive, the Schlock Mercenary board game, will be available at the APE Games booth, #1413, which is back-to-back with the Wizards of the Coast booth. And yes, if you buy that, bring it to me and I'll draw in the instruction book.
Also available at booth 745: XDM and several other titles by Tracy Hickman, and lots of Skullkickers stuff from Jim Zub. Tracy's got a board game in the works with Richard Borg, Jim's doing Munchkin Skullkickers with Steve Jackson Games, and I'm sure there's stuff I've forgotten. If there is a glue that holds our booth together, it is "Jim, Tracy, and Howard and friends, cannot hold still."
My event schedule is pretty light. Mostly you can find me at the booth, but from 2pm until 4pm on Saturday I'll be in the Writing Excuses panel with Brandon Sanderson and some special guests. It's in room 244, but if you're going to be there you already know this because it's a ticketed event and it is already sold out.