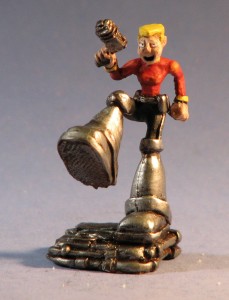 I'm off to GenCon with Sandra and my two oldest where we will be debuting two new Schlock Mercenary miniatures from Garden Ninja Studios.
Behold! Elf in all her boot-stomping glory! She is 44 mm tall and available in ready-to-paint, patina, and fully painted versions. "But what," you may ask, "is she getting ready to stomp on?"
What else?
Partnership Collective attorney drones! These are also available ready-to-paint, patina-finished, and fully painted, but our GenCon special versions will feature striped power-ties. Good news! You don't need to go to GenCon to get them that way. If you order before Monday August 9, your attorney drone will have the powerfully special, stripey tie.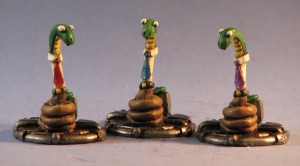 Also, since attorney drones are always being killed off, you might want to buy more than one. With that in mind, we're offering them individually and in sets of three for the price of two. Better still, the kind folks at Garden Ninja promise that if you put multiple painted attorney drones in your order, each drone will have a different color of tie.
NOTE: Because both our shipping staff and Garden Ninja's painting staff will all be at GenCon for the next week, please allow an extra week for your orders to ship.
You might ask whether there is a rule-set that will allow you to field Schlock, Tagon, and Elf against an army of attorney drones. This is an excellent question to which I do not yet have an answer. But we're looking into it, and once we've got one we'll put out a PDF. We may even be play-testing something on the table at GenCon, because GenCon is the place for exactly that sort of shenanigan.
I doubt we'll have much chance to properly blog from the convention floor, but you can always keep up with me using the Howard Tayler Twitter Feed. Come on, try it out. The 21st century is beckoning with all 140 characters at once.