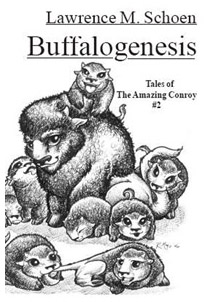 While at WorldCon I made the acquaintance of one Lawrence M. Schoen who was wearing a small, plushy buffalo on his shoulder.
This was great marketing on his part. It got me to buy his "Amazing Conroy" series of chapbooks, featuring the alien "Buffalito" critters that eat anything and fart diatomic oxygen.
(If you love Schlock Mercenary I probably had you at the word "fart." These are not those kinds of stories, though.)
Without spoiling them for you: these stories remind me of everything that first attracted me to science fiction twenty-five years ago. They're told in the first person from the perspective of an interesting protagonist with a peculiar ability. There are fantastic and equally peculiar aliens, and each story presents us with a puzzle that is a delight to work through with the hero. Three words: Sense of Wonder.
These stories originally appeared in places where you can't get them anymore. Today they're being offered in chapbooks - small, staple-bound collections reminiscent of "ashcan" indie comics, only with much, much better writing. I'd only recently been introduced to chapbooks, and wasn't expecting to be so hugely entertained by these. All three "Buffalo Dog" books were wonderful. Short, yes, but wonderful nonetheless. You can find them all on the chapbook page at SRM Publishing, and the publisher has offered a coupon code, "Buffalito" that'll save you $2.00 on any purchase made in the next 30 days.
If chapbooks aren't your thing and you're willing to read these stories electronically, you can get them through Fictionwise. Dr. Schoen's entire catalog is here, and the first Buffalito tale is Buffalo Dogs. But don't read the synopsis. It's spoileriffic.