I only got to know Jay after he'd begun fighting cancer, and although the cancer finally took him this morning, I don't feel like it won. Jay gave so much to so many people, and he did so when he had so little left. There's triumph in that.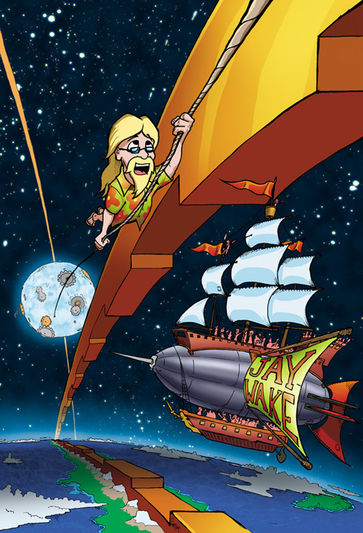 Last summer he threw a party where he could say goodbye to his friends. It was the sort of thing that not many people can pull off. He asked me if they could use a piece of artwork I'd done for a benefit earlier that year, and while the answer was "yes, of course," I realized I needed to draw something new. "Clockwork Departure," above, is what I did with that opportunity.
My first memory of Jay comes from a WorldCon, I think in Denver, but I could be wrong. We met in a crowded hallway during some party-crawl or another, and Jay was familiar with my work. He gushed, and then began introducing me to others, freely using words like "genius" in ways that I would never dare use while talking about myself.
I came away from my very first encounter with Jay feeling wonderful, and feeling like what I did was worth continuing to do.
That's the man we lost this morning, but cancer couldn't take him before he left that mark on me and countless others. We'll miss him, but we'll never forget him.