There is music playing as I write this review. It's the soundtrack to Hansel & Gretel: Witch Hunters, and it's proving to be wonderful music for writing to. And just listening.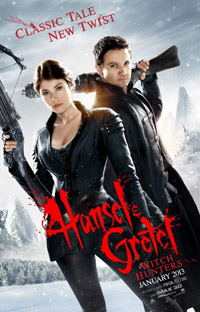 If you follow me on Twitter you got my one-line review yesterday. Hansel & Gretel: Witch Hunters is the most fun I've had at a January release in seven years (and it's #1 for me so far this year.) Seven years ago Underworld: Evolution released, and I had a great time, though I can't say for sure that I had a better time. (Note: seven years ago I also saw Bloodrayne, and that's the most fun I've ever had writing a review.)
This may seem like a pretty low bar to clear, and it is, but that's not to say I didn't have fun. I had a blast. Note, however, that there are some mind-sets you'll need to bring with you for unimpeded enjoyment:
1) Historical accuracy? No such thing. Treat this as a secondary-world, crossbows-and-gatling-guns fantasy in which there is a Hansel & Gretel story, complete with a candy house.
2) Hating on these witches is okay! These witches eat children, after all. Also, while I don't want to spoil things, if you're feeling morally conflicted about even a fantastical treatment of witchcraft-as-evil, that moral conflict is addressed, and I think you'll be satisfied.
3) Don't bring the kids. Hey, this movie is R-rated for violence, language, gore, suspense, and a flash of nudity. If you're feeling morally conflicted about that, stay home! It's a January release, after all. What are you really missing?
Honestly, I was expecting Season of the Witch, and what I got felt more like Lethal Weapon. The dialog was witty and well-delivered (if just a little-bit "buddy-cop" predictable.) Even when Famke Janssen was going all over-the-top, evil-screechy, stereotypical witch-queen (the weakest parts of the film, to my ear) the dialog never descended to the absolute clunkiness associated with low-budget fantasy. Probably because if you've got Famke Janssen, Jeremy Renner, and Gemma Arterton in your film, it's not low-budget fantasy.
---
Now, regarding the Hansel & Gretel soundtrack. I've been an iTunes guy for the better part of the last ten years. Recently I started experimenting with Amazon's MP3 store, and not only does it integrate well with iTunes, the files are DRM-free MP3 the moment they arrive.
The music during Hansel & Gretel: Witch Hunters grabbed me straight out of the gate, and I thought to myself "I may be buying an album today." I didn't recognize the composer, Atli Örvarsson, but I saw Hans Zimmer's name flash by in the final credits. As I listen to the album (which I bought through Amazon, and which is still playing as I write) I keep hearing a blending of Zimmer and Danny Elfman. Zimmer-esque orchestral punches and percussion, with quirky Elfmanian intervals in the melodies and accompaniments.
Atli Örvarrsson is now on my list of composers to watch.
If I wanted to go full-metaphor here, it sounds like the Pirates of the Carribbean score as re-written and performed by a troupe of evil clowns. But in a GOOD way. The soundtrack is just wrapping up as I type these words, and I'm off to hit the "loop" button...