We're running a holiday sale at the Schlock Mercenary store. You can get 10% off of your entire order by entering the coupon code Schlocksale09. But what might you acquire with this additional purchasing power?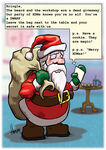 The XDM Autographed Edition Bundle. We start you off with a triply-autographed copy of XDM: X-Treme Dungeon Mastery. It offers all the other benefits of an XDM book, and then allows you to gain not one but three XDM levels via the stamp in the cover and the magic imbued via the title-page signatures of Tracy Hickman, Curtis Hickman, and Howard Tayler.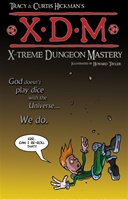 Then we hook you up with the glossy, 11x17 XDM promotional poster which proclaims "God doesn't play dice with the Universe... We do." And finally, every package includes one XDM Holiday card exposing the truth about Mr. Kringle. More importantly, the back side of this card has the special XDM Fortune Cookie Magic table. We only have 100 of these bundles, so get yours now before they're gone!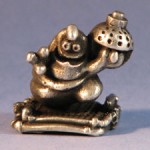 We have now listed the Schlock Miniatures in our store. In full partnership with Garden Ninja, we're now offering Schlock minis from our store. This allows you to have maximum shopping convenience when placing your order. The minis have to be specially packed, so they are shipped separately. We have the painted, unpainted, and patina finishes available. If you're just getting miniatures, you can still order direct from Garden Ninja studios. They, too, are having a 10% off sale this month. Of course we still have Schlock Mercenary Boxed Sets and marker-colored ACEO cards. And don't forget the Tagon's Toughs or the Sergeant In Motion shirts, several posters, Tagon pins, and Writing Excuses CDs. So much to choose from!