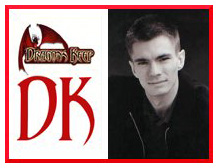 Today, Saturday September 12th, is the benefit at Dragon's Keep for my cancer-fightin' friend Jake. I'll be at the Keep from 10:00am to 5:00pm, and most of the other creators will be there from about noon 'till 5:00.
Which other creators? Here's a quick roll-call!
Ryan Ottley
Derek Hunter
Travis Walton
Jason Hanks
Tyler Kirkham
And me, of course.
I'm bringing copies of all the Schlock books, copies of XDM, and a few boxed sets. Everything I bring can be yours for at least 33% off the cover price, and a full boxed set will set you back $60, which is 40% off.
Several of the other creators have also blogged the event - I've linked their names so you can read more. They'll tell you about what they're bringing. Click on the picture of Jake for the official event page that shows covers featuring their work. All of us will be available for sketches, and you won't see a better opportunity to get a fantastic, professional sketch outside of the big conventions... none of which get held in Utah, I should add. If you're local, and you like comics, you need to be here.
All the proceeds go to Jake. We can't take plastic, so cash is king today. Hit the ATM on your way in.
Dragon's Keep is at 260 N. University Avenue in Provo, Utah. Here is a map!