The Schlock Mercenary Board Game has hit $40,000 over on Kickstarter, which means all supporters get the first expansion scenario free!
The next over-fund goal is $45,000, and that's the point at which every supporter will get a set of custom dice with the as-yet-unrevealed* Partnership Collective logo on them.
On a related note, Travis colored the first cover art element! Pretty!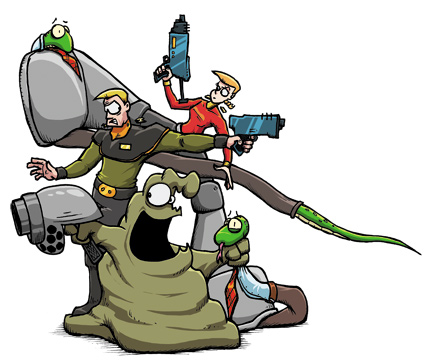 Two of the remaining three elements are inked. The third is little more than a dream of sugar-plums, or maybe a bowl full of jelly. I'll definitely have it done before Christmas, though. The goal is to get the cover art complete shortly after the project funds, so that we can provide wallpapers using that art to all supporters.
For those who came in late, this is a tactical board game, player-vs-player, featuring characters from Schlock Mercenary with character-specific abilities that make a relatively simple combat system complex enough to keep the tacticians in the audience very happy. The game is almost completely designed (a few scenarios remain) and very well play-tested.
I've played it and I love it.
It still needs piles of art from me, and then a bunch of manufacturing time. We plan to put it in people's hands this summer with an official launch at GenCon Indy 2012.
(*Note: "as-yet-undesigned" and "oh-boy-it-had-better-be-cool.")