Okay, I've got your attention, right?
The 2007 Spaceward Games are on! Come see a space elevator competition featuring laser-powered, ribbon-climbing robots this Friday through Sunday at the Davis County Fairgrounds north of Salt Lake City. My friends from Lasermotive will be there, and I'm trying to bang out enough comic work this week to be able to make it up there my own self.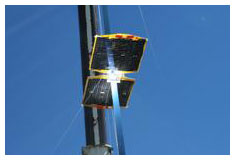 If you need Mapquest help, you're looking for The Davis County Event Center, 151 S 1100 W, Farmington, UT. The event runs from 11am to 6pm on Friday the 19th, and from 10am to 6pm on Saturday and Sunday the 20th and 21st. Tickets for a single day are $10 for adults, $5 for kids, but there are other ticket options available (VIP access, anyone?)
I'll post more later this week (especially regarding my attendance or non-attendance at the event).